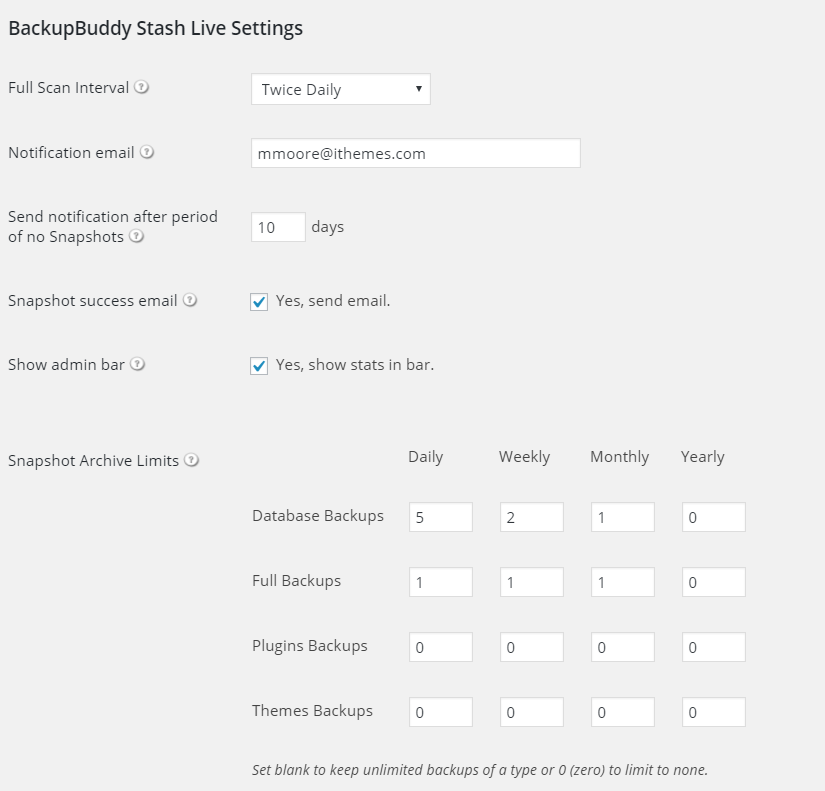 Please note, it is not recommended to adjust any of these settings unless instructed by support staff. As changing any of these default settings could result in undesired results, including the inability for Stash Live to complete a backup/snapshot.
Full Scan Interval: [Default: Twice Daily] - How often the local periodic site scan should run. This process scans and uploads the current snapshot of the database and any local file changes found. It also audits and verifies remotely stored files. If a remote snapshot is due, it will also be triggered. This period must be equal to or more than the remote Snapshot period (the Snapshot period is located in the Stash Live "Advanced Settings" and is labeled as "Snapshot Interval").
Notification email: Email address to send notifications to upon successful Snapshot creation. If left blank, your iThemes Member Account email address will be used.
Send notification after period of no Snapshots: Maximum number of days (set to 0 to disable) that may pass with no new Snapshots created before sending an error notification email.
Snapshot success email: [Default: Enabled] - When enabled, an email will be sent to the administrator email address for this site for each snapshot successfully created.
Show admin bar stats: [Default: Disabled] - When enabled, a brief Live status will be added to the admin bar at the top of the WordPress dashboard for admins. We recommend leaving this disabled on shared hosting and/or hosting where server resources are limited/restricted.
Snapshot Archive Limits: It is recommended that you do not decrease any of the default values set. As decreasing any of the default values could cause Stash Live to not function correctly, if at all. If you wish to adjust any of these (specifically decreasing any value), please create a new ticket here, so that someone from BackupBuddy support can help you adjust them if necessary. (Please note, that though increasing a value will not cause the same issues as decreasing a value, it's important that when increasing a value, you have plenty of Stash space in your Stash account for the increased number of backups that will be stored there.)
Additional File Exclusions: Additional files/directories to exclude BEYOND BackupBuddy's global default file exclusions which is located here:
BackupBuddy -> Settings -> General Settings -> File & Directory Defaults ->
Additional Table Exclusions: Additional database tables to exclude BEYOND BackupBuddy's global default database table exclusions here:
BackupBuddy ->Settings -> General Settings -> Database Defaults ->